TK08 – MATinspired™ Lood Detectie Testkit voor verflagen, leidingen, metaal en overige materialen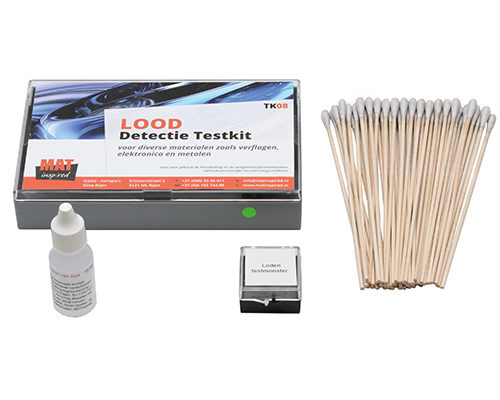 Lood is zeer giftig en kan heel schadelijk voor de gezondheid zijn, bijvoorbeeld wanneer het wordt ingeademd tijdens het schuren van oude verflagen. Wilt u weten of uw verflaag, waterleiding, metaal, coating of ander materiaal lood bevat, om gezondheidsrisico's en milieuclaims te voorkomen? Gebruik dan de loodtestkit van MATinspired voor een snel en betrouwbaar antwoord.
De test is snel en eenvoudig en doordat hij u helpt schade (-claims) te voorkomen, kunt u er veel ellende en geld mee besparen.
Deze testkit bevat 50 loodtesten.
Specificatie Lood Detectie Testkit >>
Download Brochure MATinspired Loodtestkit >>
Kopieer en plak deze URL in de WordPress-site om in te sluiten
Kopieer en plak deze code in de site om in te sluiten.